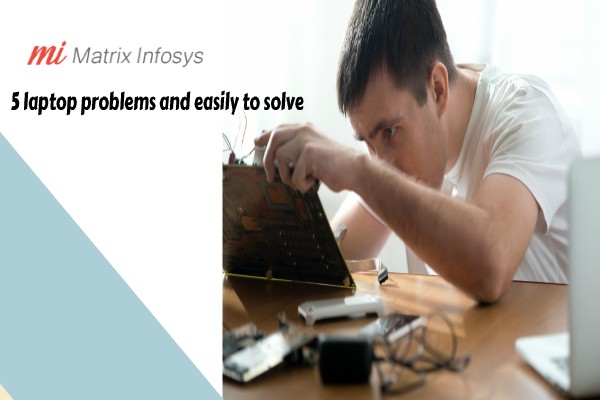 Knowing the basic fixes of laptops and computers is extremely important for any laptop or desktop user.It is not always possible to fetch help from service providers, especially while travelling or in between important meetings or outstation work. Thus knowing the knick-knacks will not only help to fix temporary glitches but also can save a lot of data and time.
Here are some of the common problems that any laptop user faces and the hacks to diagnose them-
Battery not getting charged or getting drained too quickly-

This is one of the most common laptop problems. One should find out if it is actually the battery that is causing the prob or is it something else. For this check if your laptop is working or not by detaching our removable battery and plugging your charger with the laptop. If the laptop works perfectly in this way then it is your battery that needs to be replaced. If not check out for other issues.

Keyboard issue-

keyboard malfunctioning is one of the first issue any user faces. If one is lucky then it might be a few keys , if not then the entire keyboard stops functioning. Under such circumstances plug in a USB keyboard and check the keyboard devices. In such cases navigate to the Device manager option. If you find a yellow exclamation icon next to your keyboard icon, then you must re-download the necessary drivers according to your laptop manufacturer. If you do not see any such exclamation mark, try this trick- dust your keyboard well and hold it upside down. Sometimes dust particles interfere and cause such inconveniences.

Overheating-

This common problem is a major source of discomfort for most users. Many users feel that their laptop is getting heated within a few minutes of usage. This issue not only causes user discomfort but at times cause the system to crash suddenly. We recommend using "SpeedFan". This free tool will help you monitor the laptop's CPU and GPU temperature and thereby help you have a better control over the device. Updating your BIOS will also help you through this problem.

Blue screen of death (BSOD)

This the problem that almost all laptop users are afraid of. Sudden crash of the system leads to the Blue screen of death. Both software and hardware problems can lead to this. It is important to keep a check of the malware and other viruses regularly in order to avoid this. If you can luckily boot back after the sudden crash, run a quick virus scan of your laptop and remove all infected files shown. Also updating all your drives and other applications is needed in order to avoid such problem. Check device manager regularly to keep a check of updates.

Slow hard drive-

Excessive storage of data and files in one particular disk creates this issue. This makes data processing slower in your laptop. The most efficient way to overcome this issue is to defragment the memory using the built-in Windows tool called Disk Defragmenter. In case you face such problems click on the Analyze button to see if your disk drive requires defragmenting, and then click Defragment to begin.
Above all are the common issue that occur in laptop and computer but issue is not ended here So for any other issue you may visit Matrix Infosys, A trusted computer, laptop, printer, TV and data recovery center in Kolkata. Feel free to ask any query related to your device.
These were some of the easy fixes for the common laptop related issues faced by mostly all. Knowing this quick tips will not help you overcome such issues but will also save a lot of time.